Setting goals for the year ahead? The start of the new year often brings with it new resolutions, plans and ambitions. And though there may be lots of areas to focus on, don't forget about hair and scalp care! Start the year with a routine that will bring out the best in your locks. Keep reading for our top tips for a happy scalp in 2021.
Get a new style
Whether you have been feeling stuck in a rut, or it's just time for a change, getting a new hairstyle can give you the extra motivation to keep up a healthy routine. Give a different style a go; you could try shorter layers, a pixie crop or a feathered cut. Or be bold and let your stylist decide! A fresh haircut can help you to feel your best, and give you the confidence to get take on your other goals and resolutions.
Listen to your scalp
The condition of our scalps can change over time, much like the skin on our faces. You might be more aware of visible changes to your face, such as dryness or breakouts. But it's equally as important to pay attention to your scalp health, as this can determine the condition of your hair too. 
Look out for symptoms like itching and flaking, as there may be an underlying condition causing them. Dandruff is a common condition that affects around 50% of the population at some point in their lifetime and can present as itching and flaking in the scalp area. By keeping an eye on your scalp, you can spot changes like this and find a suitable treatment, like Nizoral Anti-Dandruff Shampoo. 
If you've noticed itching and flaking, and you suspect dandruff is the cause, there are several other changes you can make to your routine that may help to ease the symptoms:
Wash your hair in lukewarm water

Avoid chemical treatments

Brush your hair regularly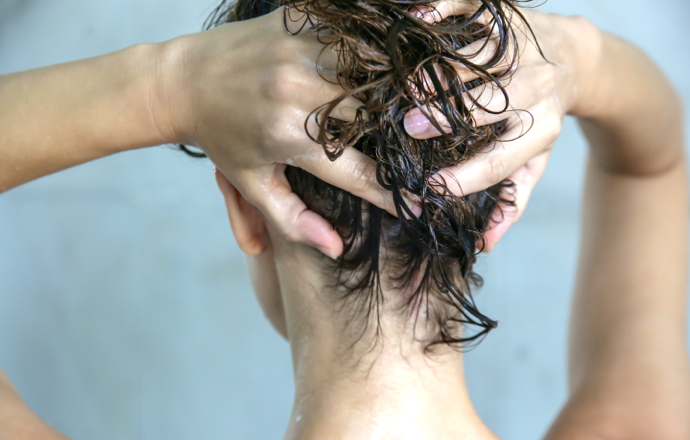 Treat yourself
From exfoliation to deep conditioning, there are lots of intensive hair treatments available, with a range of benefits. But how often do we actually indulge our hair and scalp? With busy schedules, it can be hard to make time for treatments outside of our day-to-day routine. 
Try setting aside time at the weekend, or on a quiet evening, to give your hair and scalp some TLC with our scalp facial technique:
Massage

- Wet your hair and using a medium to deep pressure and small, circular motions, work your fingers from your hairline to the back of your head and back.




(Pro tip: use a scalp massager for a treat!)

Cleanse

- With your fingertips, lather your shampoo on your scalp and leave for a few minutes - in line with product directions. Rinse then repeat. 

Nourish

- Apply conditioner throughout your roots and leave to soak as directed. Then rinse!




(Pro tip: Use a deep conditioning mask for extra moisture!)
Trim regularly
Don't wait for a special occasion to book your next trip to the salon or barbers. Having your hair trimmed on a regular basis can help to prevent breakage and split ends, which contributes to the overall health of your hair. It's recommended to book in for a trim every 8 - 10 weeks, though this can vary depending on your hairstyle. Some men and women visit the barber more frequently to maintain the shape of shorter cuts.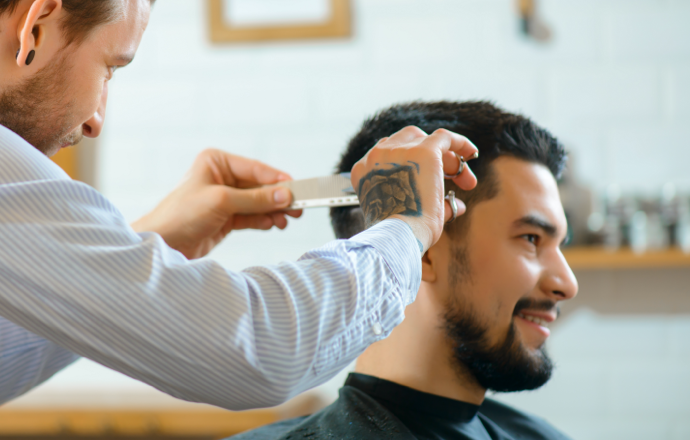 Nourish from within
It's not uncommon for new diet resolutions to be made at this time of year. If you've made a goal to improve your diet, it may be focused on weight loss, muscle gain or even increased energy. Did you know certain dietary changes are also thought to support hair health? You may find that introducing the following foods into your diet on a regular basis helps with maintaining the condition of your scalp and hair:
Vitamin B: Biotin-rich foods are beneficial for skin and hair maintenance. These foods include eggs, spinach, sweet potatoes and cauliflower.
Zinc: Zinc is a common ingredient in medicated shampoos, but it also contributes to the maintenance of normal hair. Foods rich in Zinc include meat, shellfish, legumes, seeds and nuts.
Selenium: Selenium is a mineral found in foods such as brazil nuts, fish, sunflower seeds and spinach, and contributes to the maintenance of normal hair.
Turn down the heat
Many of us style our hair with heat on a daily basis. From blow-drying to straightening and curling, our hair withstands very high temperatures. Using too much heat on your hair can cause damage, like dryness, breakage and split ends. 
Want to avoid heat damage? Here are some tricks you can try:
Heat protection spray

- No matter your hair type or colour, remember to use a heat protectant product to protect your hair from long-term damage.




Turn down the temperature - Although turning your heat styling tools up to the highest temperature can save time, think about how that heat could affect your hair health.


Natural styling

- Why not try air-drying your hair one day and avoid styling with any appliances? Let your natural tresses loose!